| | |
| --- | --- |
| Where: | Harwich, Essex at the Guildhall on Church Street |
| When: | 3rd Thursday in May |
| Time: | Noon |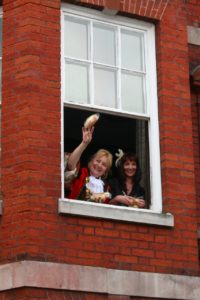 Kichels are small spiced fruit buns which are made at the local bakers shop in Harwich especially for the event. It's a charity scramble – the kichels are tossed from the  upstairs windows of the Guildhall by the newly elected Mayor, to the crowd of children (and a few adults!) outside. The Throwing follows a meeting in the Guildhall and a short service at the nearby church.The custom dates back a few hundred years (though during wartime rationing the Mayor had to give out apples instead of cakes!). The kichels are neatly wrapped so even if they drop to the ground they are edible.
Helpful Hints
In 2018 it will be on Thursday May 17th. (In 2015 it was on Thursday May 28th which is a week later than usual but this was a one-off occurrence).
Click here for the council website: http://www.harwichtowncouncil.co.uk
View larger map