| | |
| --- | --- |
| Where: | Hastings, Sussex - Procession starting at St Clements Church on High Street, Marbles at Winkle Island |
| When: | Good Friday |
| Time: | Procession from 10.30 a m, Marbles from noon |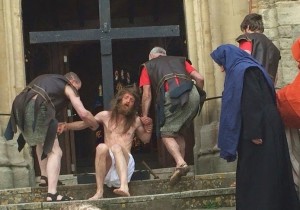 Every Good Friday, a Procession re-enacts the Stations of the Cross with Roman Soldiers, Jesus carrying his cross and a moving and graphic recreation of the original Good Friday performed by Hastings Old Town Parish Players. Expect the full trial and a crucifixion reenactment.It begins at 10.30 at St Clements Old Church , passes through the Old Town, back to the High Street to St Mary Star of the Sea and finishes at All Saints Church. Traditional Easter Hymns are sung such as When I Survey the Wondrous Cross.As a complete contrast from the events of the morning, during the afternoon Hastings Bonfire Society host their annual Easter Marbles Championship from noon!
Helpful Hints
In 2018 Good Friday is on March 30th.
Click here for the Bonfire Society website : http://www.hbbs.info
Thanks to Keith Leech for all the information on this event and the marvellous photos!
View larger map