| | |
| --- | --- |
| Where: | Bury St Edmunds, Suffolk - St Mary's Church, Honey Hill & Guildhall |
| When: | 4th Thursday in June |
| Time: | 11am |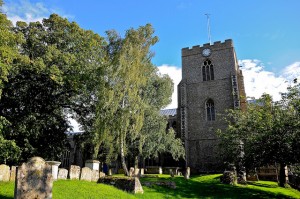 Jankyn Smith was a significant benefactor to the town of Bury St Edmunds in Suffolk; he left a bequest in his will for a Mass to be held each year on the anniversary of his death in 1481. This included money to provide cakes and ale – the charity still continues and residents of the almshouses which he also founded are  given money. It is believed to be the oldest endowed charity in the country still in existence. The special service is held at St Mary's Church with the cakes and ale to follow at the Guildhall.
Helpful Hints
It's open to the public -you don't need to be a resident or trustee to take part. Look out for Jankyn Smith memorial brass in the south chancel chapel and thanks to Helen Stevens for sharing that the original almshouses were in Chalk Road, just off what is now Kings Road, and in 1481 probably still called "Spinthemill Way"… they are now replaced by housing project accommodation, but there is a plaque on the wall to commemorate Jankyn.
In 2018 it will be on Thursday June 28th.
Click here for the website: http://www.wearechurch.net
Photo by Martin Pettit.
View larger map