| | |
| --- | --- |
| Where: | Keele, Staffordshire at the Keele Christmas Tree Farm on Station Road |
| When: | Friday in late November/ early December |
| Time: | Daylight hours from 9 am |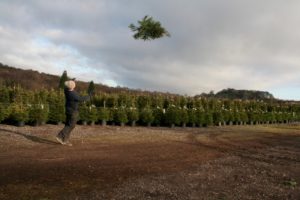 A new winter sport has spread to the UK from Germany: Christmas tree throwing! On the continent it's a well-known post-Christmas activity and a way of disposing of redundant evergreens after the holidays but here in the UK it is an Advent  activity done just for the fun of it. The very first competition was held at Keele Christmas Tree Farm in 2014 as a charity fundraiser and competitors hurl their 6-foot spruces along a course for length and over a bar for height. Friendly staff are on hand to advise on the best techniques to employ, and while you're there you might consider purchasing a tree from the vast array on sale at the Farm.
Helpful Hints
It's held on the Friday before the first weekend in December – they're too busy selling trees to run the competition over the weekend. Throwing takes place all day on demand – it tends to be busier later in the afternoon when those who finish work early on Fridays can get there. Retuning tree chuckers attempt to better their score from the previous year.
In 2017 it was on Friday December 1st – 2018 date is yet to be announced but will probably be Friday November 30th.
The Farm is  easily found – a giant inflatable Santa overlooks the entrance. Hot drinks and light snacks are available on site.