| | |
| --- | --- |
| Where: | Langholm town centre and environs |
| When: | Last Friday in July |
| Time: | From 5 am to 9.30pm |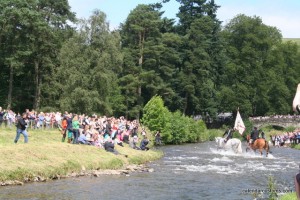 The Common Riding at Langholm takes place on the last Friday in July. Common Ridings are a boundary marking custom on horseback. They are mainly held at locations across the Scottish Borders, perhaps because this area suffered from centuries of raiding and reiving between local families and the English, and the locals needed to protect their lands from encroachment. Long after this was necessary, the Ridings survived to become major festivals and a great day out! As with all the common riding customs, expect lots of equestrians and flag waving and , uniquely to Langholm, the four emblems of the festival which are carried in the procession. They are a barley bannock & a salted herring on a pole, a spade, a giant thistle and a crown. Watch out for the spectacular gallop up Kirk Wynd and the Fair Crying, when the proclamation is read by a man standing on the back of a horse! The equestrians ford the river to get to Castleholm, where racing follows ; dancing and other sporting events take place around town throughout the day.
Helpful Hints
In 2017 it will take place on Friday July 28th.
Click here for more info : http://www.langholm-online.co.uk/pages/content.asp?PageID=122 and for a detailed schedule click here : http://www.atasteofnorthumberland.co.uk/langholm-common-riding-timetable-1.739882?referrerPath=2.3214
View larger map