| | |
| --- | --- |
| Where: | Lincoln, Lincolnshire at the Cathedral |
| When: | Daily |
| Time: | 8pm in summer, 6pm in winter |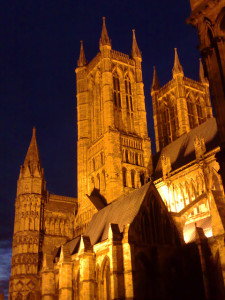 Lincoln is one of the handful of places where a curfew still sounds to remind the residents to cover their fires and get to bed. The twin bells of the north-eastern St Mary's Tower have sounded for many  years and they ring at 8pm in summer and 6pm in winter. Unusually they ring to a specific pattern – the first bell tolls 101 times minus the date in the month and the second for the remaining days in the month. I'm writing on the 29th of the month  so that means that the first bell should ring tonight for 70 times (101 minus 29 = 70) and the second should ring for 31 (70 plus 31 = 101). Curious indeed!
Helpful Hints
For much more detail on the history of the curfew click here : http://thelincolnite.co.uk/2013/11/curious-case-lincolns-curfew-chimes/
Photo by Mike Lambert.
View larger map