| | |
| --- | --- |
| Where: | Littleborough, Greater Manchester at Hare Hill Park and The Square with Parade from Moorcock Inn on Halifax Road |
| When: | Weekend in late July |
| Time: | 11am-4pm - Rushcart arrives 12 noon approx at The Square on Sunday |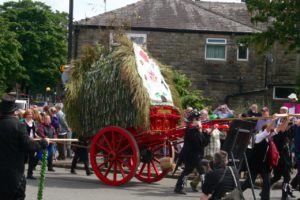 The origins of the Rushcart are similar to the traditions of rushbearing which survives in Cumbia, but which have evolved in a different way. Rushes were gathered for strewing on the church floor and a boundary-walking processional element was common. The Rusbearing at Littleborough was revived in the early 1990s and is now a well established part of the local calendar. The Rushcart is paraded through town over the weekend by morris men accompanied by local dignitaries with a brass band accompaniment, stopping at hostelries for refreshment and dancing en route. There's a family friendly fair in the park, and a ceilidh on Saturday night, with further parading and dancing on the Sunday.
Helpful Hints
Check the schedule on the LittleboroughLocal website for full details of route and timings.
In 2017 the event was on Saturday 22nd &  Sunday 23rd July with Parade on the Sunday – 2018 dates are yet to be announced. Check the event website for the full schedule.
Click here for the event website : http://cloggin.co.uk
For more info click here : http://www.rochdaleonline.co.uk/sites/littleborough-events-and-associations-forum/rushbearing-festival
For LittleboroughLocal click here: http://www.littleboroughlocal.co.uk
For Rochdale Morris contacts click here: http://www.rochdaleonline.co.uk/sites/rochdale-morris
View larger map