| | |
| --- | --- |
| Where: | Loanhead, Midlothian at Fountain Green and the Memorial Park |
| When: | 4th Saturday in June |
| Time: | 10.30 am onwards |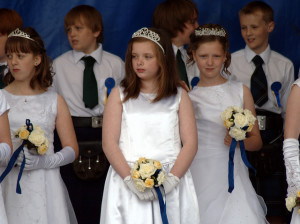 Children's Day at Loanhead is a gala event which has been well established for over a century and is  the oldest event of its kind in the district. The main event is held on the fourth Saturday in June with a varied programme of activities leading up to it including a parade of floats, sports and entertainments. The  Crowning Ceremony itself is held at Fountain Green in the centre of town – the Queen is accompanied by a plethora of  up to about 90 lavishly costumed attendants including a herald, champion and ladies and gentlemen in waiting.  It's a tradition that all the Court attendants should decorate their houses so watch out for homes bedecked with flowers and ribbons – the best decorated receive prizes.The coronation is  followed by the Grand Procession with massed bands, which is  reckoned to be the biggest parade in Midlothian, wreath-laying at the War Memorial and in the afternoon there's a programme of entertainment in the Memorial Park.
Helpful Hints
In 2018 it will be on Saturday June 23rd.
The full programme of events will be on the excellent website (see below). For a full history of the event, read Alan Mclaren's well illustrated "The History of Midlothian's Local Festivals" which is also available through the website.
Click here for the event website : http://www.loanheadgaladay.co.uk/
Photo by bigbahookie.
View larger map