| | |
| --- | --- |
| Where: | London, formerly starting at Butchers Hall in Little Britain and ending at the Mansion House but currently starting from Pewterer's Hall on Oat Lane |
| When: | First week in December (or near) |
| Time: | Usually 2.45pm to 3pm start |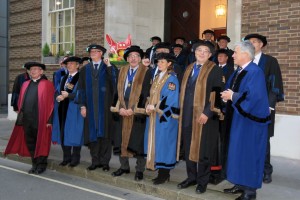 Shortly after the new Lord Mayor of London takes office in the Lord Mayor's Show (see separate article) the Worshipful Company of Butchers welcome the  Mayor by hosting a feast, the centrepiece of which is the presentation of  a traditional boars head. The event has its origins in days of yore when the Mayor gave permission to the Butchers to wash their meat in the river, and the parade continues to show the Butchers' gratitude long after this practice has ceased; it was revived more than half a century ago and though comparatively little known, it's a reminder that the Christmas season has begun in the capital. Expect a richly dressed company in robes and regalia; four of the members hold aloft a stretcher bearing the celebrated Boars Head (naturally with an orange between its jaws), and the drums of the Royal Logistics Corps accompany the procession around Cheapside to the residence of the Mayor.
Helpful Hints
All are welcome to take part in the procession and it's free of charge. No boars are harmed for the parade – health and safety rules have precluded the use of a real head for decades and instead a paper-mache substitute is used.
It's usually mid week in the first week of advent so normally falls in late November to early December. In 2017 it was on Tuesday December 5th – 2018 date is yet to be announced.
Click here for the website of the Worshipful Company of Butchers: http://www.butchershall.com
Click here for more and some nice photos: http://spitalfieldslife.com/2014/12/04/at-the-boars-head-parade/