| | |
| --- | --- |
| Where: | London - River Thames from Hampton Court to Tower of London |
| When: | A Sunday in April or May |
| Time: | 2018: From 1.15 am approx at Hampton Court to approx 6.30 at the Tower |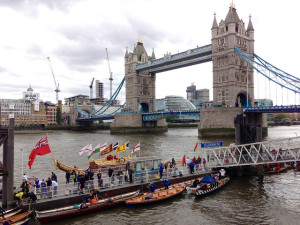 The Tudor Pull is a rowing event with much pageantry on the River Thames in which an elaborately decorated Royal Barge delivers a stela (a piece of wooden water pipe in a special glass case) to the Governor of the Tower of London. The boat is accompanied by a flotilla of Thames Watermen's Cutters which are rigged with flags  and canopies and propelled by rowers in full ceremonial livery; they set off from the Royal Palace at Hampton Court with a procession to the water. The distance covered is around 25 miles and the party create a visual spectacle rarely seen on the modern river; after the delivery the stela is kept at the Tower until it's sent back to Hampton Court for the following year. It's organised by the Thames Traditional Rowing Association whose aim is to promote rowing and sculling on the Thames in Waterman's Cutters (and it's a great excuse to get dressed-up!) though some say its origins lie in the commemoration of the sinking of Queen Eleanor's barge by London Bridge in 1256.
Helpful Hints
In 2018 it will be on Sunday 13th May.
Click here for the event website : http://www.traditionalrowing.com
Photo by Andrea Vail.
View larger map