| | |
| --- | --- |
| Where: | Ufton Nervet, Berks at Ufton Court |
| When: | Last Thursday of Easter Term |
| Time: | 2.30pm |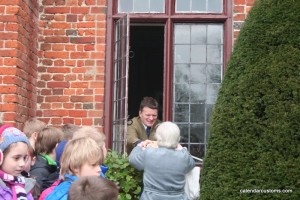 The Marvyn Dole is an ancient charitable distribution in the form of loaves and cloth which are given to the residents of Ufton Nervet every Maundy (or nearby) Thursday from the big house in the village, Ufton Court. In 1581 Lady Marvyn left money in her will to pay for the bequest, having been well looked after by the villagers when she was lost in the woods nearby. Today loaves and towels are passed from a window of the house above the terrace to the recipients outside (don't expect to be given the goods unless you have been invited as an eligible parishioner!), after a short welcome and prayers and some singing by the children. The residents are very welcoming and helpful at this deservedly popular event.
Helpful Hints
You can find Lady Marvyn's tomb in St Peter's Church,Ufton Nervet- the church is no longer used for worship but will soon be converted into a community hall for concerts and events.
In 2018 it will be on Thursday 22nd March( the week before Maundy Thursday this year).
Originally the dole was given out every Maundy Thursday – now it is on the last Thursday of the Easter Term to enable children from the local school to take part. Sometimes this IS Maundy Thursday but not invariably.  All are welcome to attend and there are teas afterwards in the tithe barn. Ufton Court is now run as an Educational Trust offering opportunities for living history experiences and is also used as a wedding venue, so it's well signposted and has excellent on-site facilities.
Click here for the Ufton Court website : http://www.uftoncourt.co.uk/index.php/home
and here for the school (the event appears in the Diary Dates link under Events & News tab): http://www.sulhamstead.westberks.dbprimary.com/westberks/primary/sulhamstead
View larger map