| | |
| --- | --- |
| Where: | Newent, Gloucestershire in the Market Square |
| When: | 2nd Saturday in September |
| Time: | From 11 am onwards |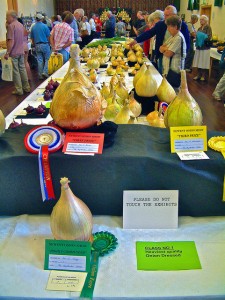 The Onion Fayre at Newent is the only celebration devoted to the ever useful vegetable; it has been held since the Twelfth Century but the Onion Eating competition has only been going since the mid-1990s, so you get an ancient and a recent custom in one day! There is an onion show, lots of stalls, a fairground and street entertainers going all day; the competition starts at 1 pm. There are classes for men and women with different sized onions, peeled ready for consumption and provded by the organisers – the winner is the one who gobbles their onion fastest. Expect plenty of tears and grimacing!
Helpful Hints
The town centre will be closed to traffic to accomodate the event – signposted paring is available in a field on the edge of town.
If you prefer eating your onions as an ingredient rather than on their own, there is plenty of local produce available at the event.
In 2018 it will be held on Saturday September 8th.
Click here for the event website : http://www.newentonionfayre.org/
Photo by Angus Kirk.
View larger map