| | |
| --- | --- |
| Where: | Formerly at Newtown, Powys starting in the High Street |
| When: | Formerly a Sunday in late November or early December |
| Time: | Formerly at 10am |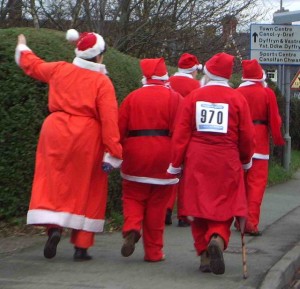 A sea of Santas surge through the thronged streets of Newport in this charity fundraising event. Hundreds of competitors,all in red and white Santa costumes, race over four-and-a-half miles on a flat and wheelchair friendly route, with a shorter version for children. Some have been known to take hours to cross the finish line… The event was another of those grat ideas thought up in a pub and has been a fixture in the calendar for a number of years with a few imitators aound the country.
Helpful Hints.
I've been unable to find any current details of the Santa Run and have concluded it has lapsed. If you know any different please get in touch!
Click here for the event website : http://www.santarunnewtown.org.uk/
Photo by Iestyn Hughes.
View larger map