| | |
| --- | --- |
| Where: | Langsett, South Yorkshire at the Waggon and Horses inn on A616 near the Reservoir - 2017 at Wortley Men's Club, Wortley, Sheffield |
| When: | Saturday nearest full moon before November 5th |
| Time: | 8.30 pm |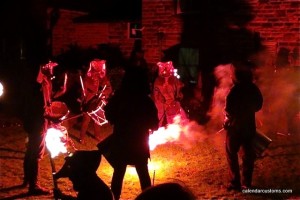 The Night of the Hunters Moon is celebrated at Langsett each year and involves a special masked fire dance. The website for the event contains the legend of its foundation following a drought and the discovery of the Red Book of Langsett with details of an ancient custom….today carried on by Mister Fox and his associates. If you like fire and dancing and an atmosphere of mystery, this is the event for you!
Helpful Hints
In 2017 it was on Saturday 7th October, at Wortley Men's Club instead of the usual Waggon and Horses – in 2018 it will be on Saturday 27th October (venue to be confirmed).
The event can fall in October or very early November depending on the phases of the moon of the  year concerned. Accomodation and food are available at the venue and the display takes place in the beer garden next to the pub. If the carpark is full, try one of the side roads just off the main road – plenty of room and just a short walk.
For the venue website click here : http://www.langsettinn.com/
For the marvellous event website click here : http://www.mr-fox.org.uk/index.html
and for the Facebook page click here: https://www.facebook.com/mrfoxdance/
View larger map