| | |
| --- | --- |
| Where: | Oasby, Lincolnshire starting at the Houblon Inn |
| When: | Friday in mid November |
| Time: | 6.30pm |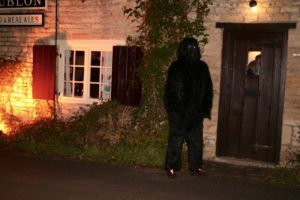 In the early years of the eighteenth century, the infant heir to Culvertorpe Hall was tossed from a window by the family's pet primate, or so the local legend goes. Inspired by the tale, the local morris side started up a new tradition in the 1990s which involves a man in a monkey costume being pursued around the village by a torchlit procession. Eventually the procession attempt to enter the pub, but until they toss a toy monkey over the roof, the landlord denies them access…once it's thrown over everyone can get inside and a good time is had by all. Expect morris dancing, flaming torches, horn blowing, pot-banging and more – what's not to like?!
Helpful Hints
It's always on the same Friday in November as the TV appeal for Children In Need and money raised on the night is donated to the appeal – all ages are welcome.
In 2017 Children in Need & Baboon Night was held on Friday November 17th – 2018 date is yet to be announced. The walk around the village is all on hard surfaces, and when we went is started after 7pm so there was time for drinks beforehand.
Click here for the pub website: http://www.thehoubloninn.com/
and here for the event Facebook page : https://www.facebook.com/TheHoublonInn/timeline
For a first hand account click here: http://traditionalcustomsandceremonies.wordpress.com/2013/11/
Many thanks to Ross Parish for drawing my attention to this one!
View larger map