| | |
| --- | --- |
| Where: | London -outside the Globe Theatre on Bankside and at Borough Market, Southwark |
| When: | Sunday late in October |
| Time: | Noon |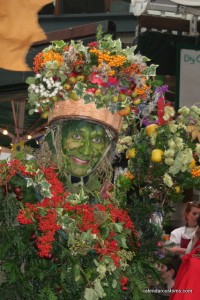 October Plenty is a harvest festival celebration of the bounty of autumn and is a fusion of old customs with modern street theatre. It's held each October starting outside the Globe Theatre on Bankside in London and takes place whatever the weather, free of charge. Traditional figures will be there such as the Corn Queene, Hobby Horse and Berry Man, the autumnal incarnation of the green man complete with an apple tree. The proceedings get underway with a masque inside the Globe Theatre, then the procession winds its way to Borough Market where there is dancing, performances of plays and seasonal fare including cider. As the event is organised by professional actors the standard is very high! There are competitions for all ages, a story-telling orchard, singing and dancing and at the end the Corn Queene is dismantled and her many component parts are flung to the crowd (we took home a turnip!).
Helpful Hints
This is a very family friendly event organised by the same team as Twelfth Night Celebrations. In 2012 when we went, it coincided with Apple Day so many of the events followed the theme, such as apple bobbing, competitions for the longest apple peel and apple tasting. There were also displays of bees and conker competitions. Borough Market itself had a very diverse and tempting array of goods on offer.
In 2018 it will be on Sunday 21st October (to be confirmed).
Click here for the event website : http://www.thelionspart.co.uk/octoberplenty/index.html
View larger map