| | |
| --- | --- |
| Where: | Old Woodstock, Oxfordshire at the Black Prince on Manor Road, Town Hall in the Market Place & River Glyme |
| When: | Saturday in late July/early August |
| Time: | 6pm elections,7pm at Town Hall, 7.30 ducking (2016 times) |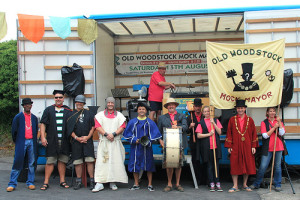 Old Woodstock in Oxfordshire is the setting for a popular custom which dates back to the eighteenth century, with its origins in making fun of neighbouring New Woodstock with its fancy Town Hall. After a break in the early twentieth century, the festival was revived with enthusiasm in the 1980s. Expect a procession of the outgoing Mayor and his officals in fancy dress, accompanied by a Town Crier at the hustings. Candidates make their speeches then the committee elect their new Mayor for the year, forming a procession across Blenheim Park to the New Woodstock Town Hall for dancing with morris men and the real Mayor of Woodstock…..then the Mock Mayor is ducked in the River Glyme and a good time is had by all!
Helpful Hints
The event took a break for the year in 2017 and will return at the end of July 2018.
When not in use, the regalia can be found at the County Museum in Woodstock. A traditional village fete takes place during the afternoon with stalls and entertainments, from 3pm. The organisers advise turning up on foot as parking is not available en route (see website link)
It was usually held on the first or second Saturday in August but from 2018 will be late July.
Click here for the event website : http://www.oldwoodstock-mockmayor.com/index.html
Here for the Facebook page : https://www.facebook.com/pages/Old-Woodstock-Mock-Mayor/199381633415574
and here for a first-hand description of the event: http://traditionalcustomsandceremonies.wordpress.com/?s=woodstock
Photo by Woodstock Mock Mayor.
View larger map