| | |
| --- | --- |
| Where: | Oxford - around the parish boundaries of St Michael in Northgate and St Mary the Virgin. |
| When: | Ascension Day |
| Time: | 9am onwards |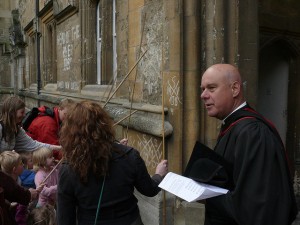 Ascension Day was traditionally a time for checking parish boundaries and marking them; in Oxford two neighbouring parishes still perform this in the traditional way. A short service is held in each church, followed by a procession of clergy and dignitaries who follow their ancient route around the landmarks, beating them with white wands , marking them with chalk and calling "Mark! Mark! Mark!".  The walk takes about two hours and some of the points are inside shops and pubs ; the end is at Lincoln College where the participants are fed and watered with Ivy Beer. Both processions pass through Brasenose College.
Helpful Hints
Ascension Day is linked to Easter ( it's the fifth Thursday after Easter) and therefore varies in date from year to year but is always on a Thursday.
In 2017 it will be on Thursday 25th May.
Click here to find out more : http://www.oxfordhistory.org.uk/streets/parish_marks/index.html
Photo by Shimgray.
View larger map