| | |
| --- | --- |
| Where: | Formerly at Birmingham, West Midlands at Broad Street |
| When: | Formerly Late November on a Sunday |
| Time: | Formerly 1pm |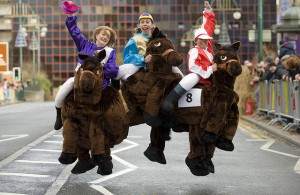 This was a charity fundraising event in which competitors in a horse/jockey costume combo raced along Broad Street, jumping over hay-bales. Silly? maybe, but lots of fun. As you can see from the photo, the entrants were not the traditional two-person horses where one human acts as front legs and the other the back legs of a single horse: these were steed and rider combined. There were up to 40 entrants (just like in the real Grand National!) and a gruelling course of twelve fences; it was going annually since 2003 and made a great family day out. Expect a plethora of  pantomime jokes of the "It's behind you!" variety and plenty of horsing around. Sadly this event seems to have lapsed in 2011.
Helpful Hints
You could place bets! Entry was free for spectators; if you wanted to compete you had to register in advance (costumes were provided by the organisers so you don't need your own panto horse) and pay a £50 fee.
The event took a break during 2011 – no sign as yet of a revival.
Click here for more info : http://www.activbirmingham.com/community/detail/PantomimeHorseGrandNational-9666.html
Photo by Birmingham News Room.
View larger map