| | |
| --- | --- |
| Where: | Penistone, Yorkshire at the Church of St John the Baptist |
| When: | Good Friday |
| Time: | 10am |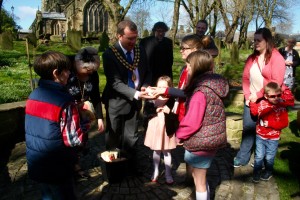 One of the few survivors of the once-common charitable doles of the Easter period is the Flour Dole at Penistone.Following the Family Service, the congregation make their way to the Sensory Garden where the bags of flour are distributed by the Mayor, then all are invited back to the Church for coffee and hot cross buns, with lots of activities for the children. In the old days, rye was the flour of choice and there's a board inside the church dating the custom back to 1559 when local landowner William Turton bequeathed a legacy for the purpose of poor relief; it was altered to wheat flour over 100 years ago but is still going strong well over four hundred years later!
Helpful Hints
The service is a family friendly Messy Church suitable for all age groups. All are welcome to attend and to claim flour! Everyone is very friendly and it's a great way to start your Easter weekend.
In 2018 it will be held on Friday 30th March.
Click here for the Facebook page : https://www.facebook.com/Penstjohns?fref=ts
Thanks to Jack Briggs for drawing this event to my attention!
View larger map