| | |
| --- | --- |
| Where: | Penrith, Cumbria- Town Centre with Torchlit Parade from St Catherine's Church, Church Fields |
| When: | A Saturday in late October to mid November |
| Time: | From noon with Drovers Cup from 1.45, and Torchlit Parade at 6.30 approx |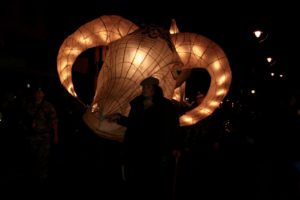 The Winter Droving as Penrith is a modern festival incorporating many traditional elements to celebrate the rural heritage of the region. As well as the torchlit procession after dusk featuring masked lantern bearers, there are agriculturally themed sports, local foods on sale, competitions, music and other entertainments. The Drovers Cup is a team event which includes hay bale racing, pint carrying, egg tossing, sausage eating and a tug-of-war, with the individual events taking place at intervals during the afternoon.
Helpful Hints
Follow the link below to the event website where you'll find all you need to know including a full programme of what happens, where and when, road closures and lots of photos.
In 2017 it was on Saturday October 28th – 2018 date is yet to be announced.
Click here for the event website: http://www.winterdroving.uk
and Facebook page: https://www.facebook.com/TheWinterDroving/