| | |
| --- | --- |
| Where: | Pontefract, Yorkshire at the Precinct |
| When: | 2nd Sunday in July |
| Time: | 11am-4pm |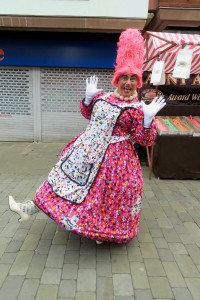 The centre of the British liquorice industry was Pontefract (remember those little black sweeties called Pontefract or Pomfret Cakes?) and the annual festival celebrates the town's liquorice growing heritage. Originally used medicinally, liquorice is believed to have reached the UK with returning crusaders in medieval times; by the late nineteenth century there were 10 local sweet producers and today Wilkinsons still make the famous Cakes. As well as the expected edibles and drinks made from the roots, there are street entertainers, activities for children, history talks and stalls. As you can see, the lovely Liquorice Lady overcame her natural reticence to allow us to capture her image…..
Helpful Hints
An original liquorice tree still grows in the grounds of the Castle – it's labelled and grows next to the walls of the Keep in the flower bed (it's not as large as you might expect). There's a pub named after it in the Market Place with a depiction on the sign – the Liquorice Bush.
We sampled bread, cake, tiffin and beer flavoured with liquorice and of course we had to buy some of the eponymous Pomfret Cakes. It's a family friendly free festival (try saying that with a mouthful of liquorice).
In 2018 it will be on Sunday July 8th.
Click here for the event website : http://www.wakefield.gov.uk/residents/events-and-culture/events/pontefract-liquorice-festival
View larger map