| | |
| --- | --- |
| Where: | Richmond Market Place (Yorkshire) |
| When: | 24th December |
| Time: | Around midday |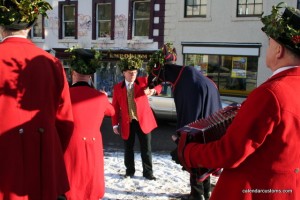 The Poor Old Hoss of Richmond is a hobby horse with a real horse-skull on a pole as his head. He is accompanied by a group of mummers in huntsman costumes who sing his special song and bring him back to life with a blast on a hunting horn when he "dies", accompanied by much merriment and mayhem. The day begins with a morning get-together of the participants at a local hostelry and most of the action takes place around the Market Place area, in and out of the pubs and the bank! There is a special session at the Town Hall aimed at children which will hopefully keep the custom alive and kicking in future generations .T'Owd 'Oss (as he is locally known) is an amiable beast and seeing him can bring luck. The custom is believed to have pagan origins, with known records dating back to the Seventeenth Century. In the lead up to Christmas, the group also tour local villages (check with Town Hall for details).
Helpful Hints
There's a display on the Poor Old Hoss at the Richmondshire Local History Museum, Ryder's Wynd. Because Poor Old Hoss is in dialect for Poor Old Horse, there are numerous different spellings to be found, mostly phonetic, so apologies if my interpretation is slightly off!
Click here for the Town Hall: http://www.richmondtowncouncil.org.uk
and here for the museum : http://www.richmondshiremuseum.org.uk/index.html
View larger map