| | |
| --- | --- |
| Where: | Portsmouth at Buckland Park Play Centre on Malins Road |
| When: | A Saturday in July |
| Time: | Noon - 3 pm |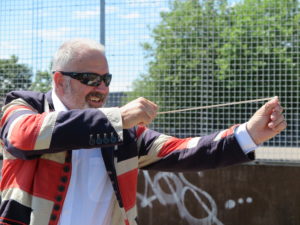 If you're a fan of unusual sports, this is the event for you! As the name suggests, the winner is the competitor who can fire a rubber band the furthest on the course.  The rules are simple: the elastic band is to be hooked over either thumb and pulled back by the other hand with the longest of three shots counting. Current records are just shy of 20 metres but as a new event, this could change with practice and with a wider field. It's open to all ages and the bands are provided on the day; there are classes for Gents, Ladies, Boys under 16 & Girls under 16, each with prizes. It's part of the Play Centre's Summer Fair and plenty of other attractions and stalls are on-site.
Helpful Hints
In 2017 it was on Saturday July 8th – 2018 date is yet to be announced.
Many thanks to Ginge Fullen for drawing this event to my attention and for the photos!