| | |
| --- | --- |
| Where: | London from St Peters Italian Church in Clerkenwell Road |
| When: | Sunday in mid July (usually Sunday on or following 16th) |
| Time: | 3.30 |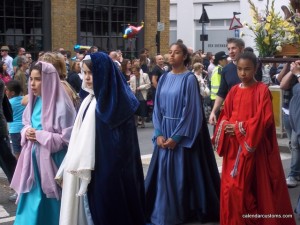 St Peters is the oldest Italian church in London, founded in the mid nineteenth century to serve the needs of the large number of local immigrants from Italy. It is believed that the procession was the first outdoor Roman Catholic religious event held in England since the Reformation in the sixteenth century; it has been running annually since the 1880s (only the two World Wars intervened!) and it celebrates the heritage of the local church and community. The procession through the streets of Clerkenwell includes musicians, icons, religious statues and floats with tableaux showing Biblical scenes. There are stalls selling Italian food – expect to hear Italian being spoken and plenty of flags!
Helpful Hints
St Peters holds a full range of services throughout the year.
In 2018 the procession will be on Sunday July 22nd (to be confirmed).
Click here for the church website and contacts: http://parish.rcdow.org.uk/italianchurch/
Click here for the event website : http://www.italianchurch.org.uk/Procession.html
(this second link appears to be currently broken – will keep checking it out)
Thanks to Paula Gerrard for the photos and for drawing my attention to this event!
View larger map