| | |
| --- | --- |
| Where: | London at Vintners Hall, Upper Thames Street |
| When: | 2nd Wednesday in July |
| Time: | 11.45 |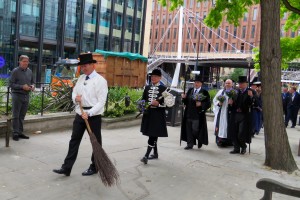 The Worshipful Company of Vintners is a London trade guild for purveyors of wine. The Company elects its new Master each year in July, and a special service is held at the Church of St James Garlickhythe. A Procession follows the Master and Wardens in Tudor dress, from Vintners Hall the to the church; their path is swept by a wine porter using a  birch broom, in a practice originating long ago when the streets were't clean and paved as they are today. Participants also carry nosegays, presumably because the old streets didn't smell too sweet either!
Helpful Hints
In 2018  it will be on Wednesday 11th July. Some books and websites say it's on a Thursday but it's fixed by charter on the second Wednesday in July.
Click here for the Company's website : http://www.vintnershall.co.uk
View larger map