| | |
| --- | --- |
| Where: | Queensferry, Lothian - starting & ending at The Stags Head on the High Street |
| When: | 2nd Friday in August |
| Time: | From 8.45 -all day |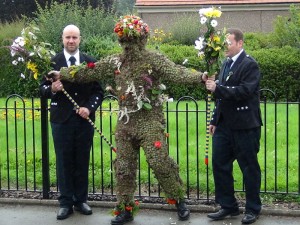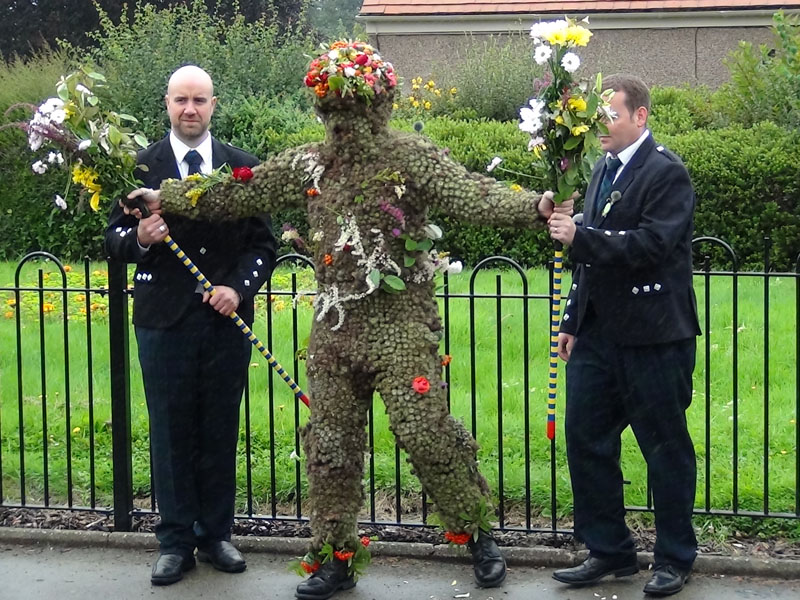 There is no-one else like the Burry Man – a man encased completely in a costume composed of thousands of burdock heads, wearing a flowery bowler hat. He has two attendants who help him through the long day, and uses staves to support his arms and stop them sticking to his body. He walks the streets of the town for hours, covering about 7 miles in what is believed to be a luck-bringing custom. Whisky is regularly offered to him on his rounds (also for luck) and because his face is also covered with burrs attached to a knitted balaclava, he drinks it through a straw.
The Burry man is associated with the local Ferry Fair which takes place the following day with parades, concerts, fancy dress, bands and the crowning of the Ferry Queen. When we attended in 2011 we only had time for a flying visit due to family commitments, but I hope to return and do the full day another year. 2011 was a late summer and apparently it was challenging finding enough burrs – luckily sufficient were found to preserve the Burry Man's modesty!
Helpful Hints
In 2018 the Burry Man will be out on Friday 10th August.
Click here to find out more including the route with approximate timings : http://www.ferryfair.co.uk/
Many thanks to Geoff Doel for providing the 3 photos of 2012!
View larger map