| | |
| --- | --- |
| Where: | Countrywide |
| When: | Sunday nearest 11th November |
| Time: | All day - parades usually 10am or 10.30 |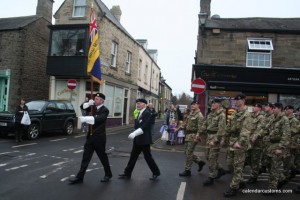 Remembrance Sunday is the day on which the whole nation remembers the servicemen and women of the First and Second World Wars and all subsequent conflicts, who gave their lives in the service of their country. It is the Sunday nearest to Armistice Day 11th November, the day on which the First World War ended and on which commemorative events used to be focused before the creation of Remembrance Sunday (which of course always falls on a weekend and is thus easier to manage). Parades march by, wreaths are laid at War Memorials, the Last Post sounds and a two-minute silence is observed in memory of the fallen. Just about every settlement in the country has a War Memorial and associated ceremony and it is an event which is relevant to almost everyone.
Helpful Hints
My photos are from Corbridge in 2011.
In 2018 it will be on Sunday November 11th.
For more about the poppy appeal click here : http://www.britishlegion.org.uk/