| | |
| --- | --- |
| Where: | Richmond, North Yorkshire at Holy Trinity Chapel in the Market Place |
| When: | Twice daily |
| Time: | 8am and 8pm |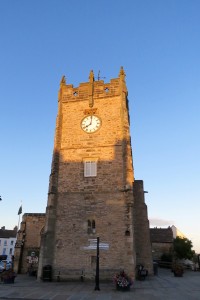 The bell at Richmond's Holy Trinity Chapel is rung twice daily: at 8am to rouse the apprentices and at 8pm as a curfew. In the past it was common practice for a curfew bell to be rung all over the country, to let people know it was time to cover their fires and get to bed. Richmond is one of the select few places where this still happens! The bell is also rung at 11.55 on Shrove Tuesday to remind everyone to make their pancakes.
Helpful Hints
While the Chapel is still used for worship, the main body of Holy Trinity Church is used as the Green Howard Regimental Museum. The Curfew rings immediately after the clock has struck the hour – I think it rings 13 times for the Curfew but it's a long way for me to go back and check that so drop me a line if you know!
View larger map