| | |
| --- | --- |
| Where: | Scarborough, North Yorkshire - Foreshore Road |
| When: | Shrove Tuesday |
| Time: | Noon |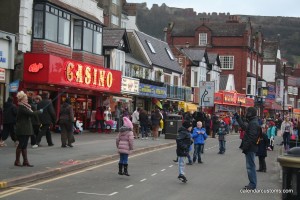 Skipping on Shrove Tuesday was formerly carried out in numerous locations across the country; at Scarborough the tradition is still thriving. Its origins are unknown but it's been happening for well over a hundred years – as Shrove Tuesday was a half-holiday for many workers it was a good chance to have a get-together and release some energy after the winter. The shrovetide bell is rung by the Mayor accompanied by the Town Crier, followed by pancake races just along the street. Skipping at begins from noon and long ropes are turned all along Foreshore Road with several people skipping over each one ( some real experts can use two ropes simultaneously!). Expect plenty of family fun especially when Shrove Tuesday is during the half-term break.
Helpful Hints
Foreshore Road is closed to traffic for the event. The pancake bell is up in the pedestrianised part of town on the corner of Newborough and North Street – this can be tricky to find on some interactive maps – it's just west of the crossroads where Newborough meets St Nicholas Street and St Thomas Street.
In 2018 Shrove Tuesday will be on 13th February.
View larger map