| | |
| --- | --- |
| Where: | Sowerby Bridge, Yorkshire - starting Saturday at Warley at St John's Church and Sunday at St Peter's Church, Sowerby |
| When: | 1st weekend in September |
| Time: | From 10.15 am Saturday & 10.30 Sunday |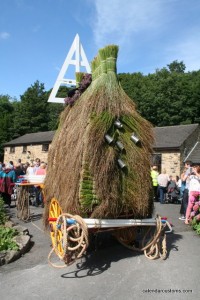 The annual Rushbearing Festival at Sowerby Bridge takes place early in September each year and is a revival of an ancient custom. Its origins lie in the tradition of carrying fresh rushes to church to put on the beaten earth floor – few such events survive today because most churches  lost their festivities when they improved their flooring long ago. The event begins with rushes being piled high on a special rushcart – the thatching process takes over a week but is complete by Saturday morning- which is blessed at the church at 10.15. The decorated cart parades its way arund the local villages all day accompanied by morris men, mummers and other entertainers. On Sunday, the special Rushbearing Service is held at St Peter's Church at Sowerby from 10.30 followed by another procession and more dancing through the day.
Helpful Hints
A full route map and programme are available on the website link below. Refreshments are available at set points on the route.
In 2018 it will be on Saturday 1st and Sunday 2nd September.
Click here for the event website : http://www.rushbearing.com/
View larger map