| | |
| --- | --- |
| Where: | England everywhere |
| When: | 23rd April |
| Time: | All day |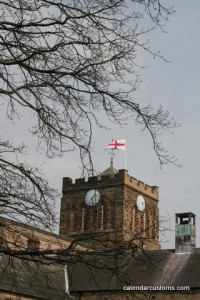 St George is the Patron Saint of England and his feast is celebrated on 23rd April; events appear to be currently growing in frequency and enthusiasm across the country often organised by heritage bodies like English Heritage and the National Trust. St George's Cross is  seen on flags, greetings cards are produced and roast beef and Yorkshire pudding are eaten and , increasingly, Mummers Plays are being performed. These used to take place around Christmas time (and still do) but it seems appropriate for George v. the Dragon combat to take place on this day, which is no doubt why it is occuring. Our local Morris side Hexham Morris Men performed their play at the Bandstand on the Sele in Hexham in perfect sunshine in 2010.
Helpful Hints
Many morris dancing sides perform plays around this date – to find your local ones click here: http://www.themorrisring.org
and here: http://morrisfed.org.uk
English Heritage organise related events at their flagship properties in each region, usually on weekends near to 23rd – to find your local events click here : http://www.english-heritage.org.uk