| | |
| --- | --- |
| Where: | Ripon Market Square and environs |
| When: | The Saturday before the 1st Monday in August (this can sometimes be the last Saturday of July) |
| Time: | 2pm onwards |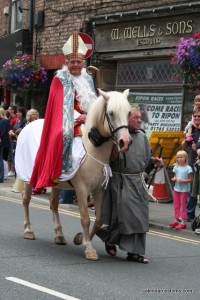 St Wilfrid was the Abbot of Ripon and Bishop of York and was influential in the Early English Church. The Cathedral at Ripon is dedicated to him and every year his return to the town is celebrated with a parade led by an actor playing the Saint on his horse, followed by floats, musicians and dancers and the Wakeman of Ripon (see Daily Customs). There are also fairground rides and stalls in the Market Square. Until recently Wilfra or Wilfrid Tarts were available at a local bakery which has now closed – these are apple-and-Wensleydale-cheese pies – if anyone starts making them again I would like to try one!
Helpful Hints
Follow the plentiful signs to the large car park situated near the Cathedral and Market area but be prepared to search for a space as town gets full. The terrain is easy to negotiate – all clean hard surfaces. Look out for the best-dressed Morris man I've ever seen!
In 2018 it will be on Saturday 4th August.
Click here for the Cathedral website: http://riponcathedral.info