| | |
| --- | --- |
| Where: | Countrywide |
| When: | Late November / Last Sunday before Advent |
| Time: | All day |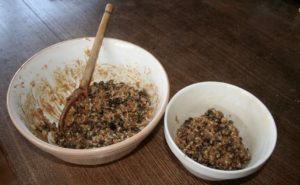 Stir-Up Sunday is so called for two reasons. The first is from the wording of the collect in the church service for the day which begins " Stir up , we beseech thee O Lord" and the second is because traditionally this was the day upon which the Christmas Pudding should be made in order for it to have time to mature before Christmas Day. Presumably the wording at church became associated with the appropriate time for pudding preparation and the two have been linked for many years.
Helpful Hints
Stir-Up Sunday is the last Sunday before Advent and because the dating of Advent varies a little from year to year, it can fall anytime between November 20th and 26th. In 2018 it will be on Sunday November 25th.
Here's our family recipe for anyone who needs one. It's been tried, tested and adapted by relatives for well over half a century and John likes it best served with custard. It's in Imperial measurements but if your scales are metric you can easily convert the quantities. It fills a 6-inch pudding basin:
You need 6 ounces each of raisins, sultanas and currants, 2 oz of mixed peel, 2 oz of glace cherries, 6 oz plain flour, 3 oz breadcrumbs (I just grate a few slices of bread), 6 oz suet (vegetable suet is fine), 4 oz brown sugar, 3 eggs, 1/2 a glass of brandy, a pinch each of nutmeg, mixed spice, cinnamon and salt, a teaspoon of coffee , rind and juice of a lemon and an orange , half a grated carrot and milk to mix.( John isn't too fond of cherries so I don't add many but as long as the overall fruit content remains the same you can tinker with the quantities of each to taste).
Mix the dry ingredients in a large bowl, beat the eggs & add them and the brandy & juice and add enough milk to give a stiff dropping consistency. Grease a 6-inch pudding basin, fill it with the mixture (don't worry if there's a gap at the top) and cover  the top of the basin with greaseproof paper (greased on the underside) with a layer of cooking foil over it, tied on with string. Steam in a steamer over a pan  of boiling water for 7  hours and keep checking the pan to make sure it doesn't boil dry. Store it somewhere cool & dry until you want to eat it: when serving you can either heat each portion up in the microwave like we do, or steam it again for about 2 hours.
When you serve the pudding you can set it on fire by turning it out of the basin, heating more brandy in a saucepan then pouring the hot brandy over it and putting a match to it, so it comes flaming to the table!