| | |
| --- | --- |
| Where: | River Thames from Sunbury Lock, Surrey (Monday) to Abingdon, Oxon (Friday |
| When: | Third Week of July |
| Time: | Starting 9am each day |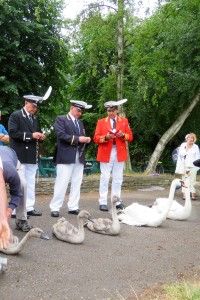 The swans in the River Thames all belong either to the Sovereign or to the Worshipful Companies of Vintners or Dyers who were granted the privilege of ownership by the Crown in the Fifteenth Century. Every year the beaks of cygnets used to be marked to show who they belonged to – if a bird had two nicks it belonged to the Vintners, if one to the Dyers and if none at all to the Queen. The process of marking the young birds and taking a census  is called Swan Upping and it takes place over five days during July but nowadays the birds are tagged or ringed for identification instead . The birds are also weighed and a report is later produced on the health of the swan population for the year. The group of swan markers wear colourful livery and travel up the river in traditional Thames skiffs with flags a-flutter. There is a full schedule on the website (link below) and each day there are observation opportunities at intervals. Starting places are as follows : Monday Sunbury Lock, Tuesday Eton Bridge, Wednesday Marlow Bridge, Thursday Sonning on Thames, Friday Moulsford. Because the swan population is wild, it's tricky to predict just where the Markers will come across birds to inspect and timings are of necessity flexible as a result.
Helpful Hints
In 2018 it will take place from Monday 16th July to Friday 20th July (to be confirmed).
Click here to find out more : http://www.royal.gov.uk/RoyalEventsandCeremonies/SwanUpping/SwanUpping.aspx
and: http://www.royalswan.co.uk/
Swan Lifeline is a charity devoted to caring for sick and injured swans on  the Thames – they have an open day each year, usually in September, and offer boat rides, visits to the swans and stalls & entertainments. Click here to visit their website:  http://www.swanlifeline.org.uk/
View larger map