| | |
| --- | --- |
| Where: | Tewkesbury, Gloucestershire - off Lincoln Green Lane and at Abbey |
| When: | 2nd weekend in July |
| Time: | From 11 am with Battle Re-enactment at 4pm Saturday & 3pm Sunday and Storming of the Abbey (Saturday only) at 7.30 |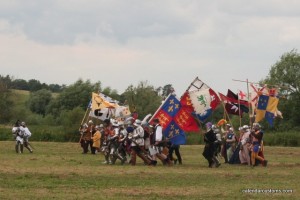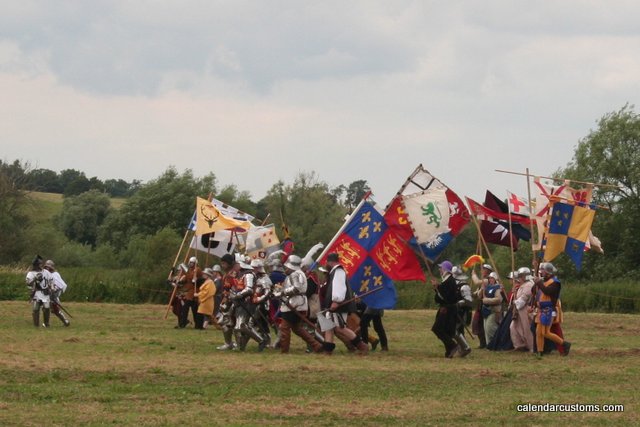 The Medieval Festival is one of the largest events of its kind in Europe and takes place every July in fields off Lincoln Green Lane (where part of the 1471 Battle of Tewkesbury took place). There are regular guided tours of the Battlefield as well as a living history encampment, lots of stalls, entertainers, and battle re-enactments with up to 2000 participants (quite a spectacle!). The area between the two rows of bunting at the front of the battle viewing area is for seated people only (most brought chairs or blankets to sit on) which means that it's fairly easy to get a decent view even when the crowd is large. The battle is very well run with an interesting commentary ( in 2014 this was provided by Prof. Ronald Hutton).On the Saturday evening only there is also a recreation of the 1471 Storming of the Abbey and subsequent execution of the defeated Lancastrians (luckily not too authentic..) as well as a Service of Compline at the Abbey Church. The Trials of the Lancastrians take place in the parking area on the north side of the Abbey and executions at the Abbey Gate just off Church Street – the heads are mounted on the spiked railings!
Helpful Hints
The main carpark filled up in 2014 – overflow parking is available at Gupshill Manor (where Queen Margaret stayed the night before the battle) a few minutes walk up the road and all festival carparks cost £5.
Look out for the memorials inside the Abbey to George, Duke of Clarence (Edward IV's brother) who is buried in the vault at the East end and Edward Price of Wales (killed in the battle) who has a memorial brass plate in the chancel floor. There are trails around the whole battlefield area with a monument to the battle in the Vineyards area and memorial sculptures on the roundabout off A38 south of town.
In 2018 the festival will take place on Saturday 14th  and Sunday 15th July (to be confirmed).
Follow the link in the comments below for details of camping.
Admission is free but the Festival relies on donations so look out for the collection buckets!
Click here for the Festival website : http://www.tewkesburymedievalfestival.org/
View larger map