| | |
| --- | --- |
| Where: | Much Marcle, Herefordshire at the Village Hall and surrounding area including Hellens |
| When: | 2nd Full Weekend in October |
| Time: | From 10am ; Hellens from noon. |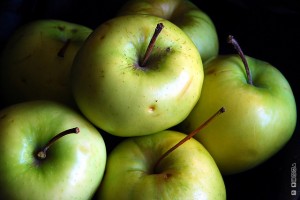 The Big Apple is a relatively recent institution dating back some twenty years, celebrating the long tradition of the apple harvest in Herefordshire. Held in October, various events are organised including cider and apple tastings and the Feast of Apples at Hellens, a nearby historic house, where folks can take along apples from their own trees to have the variety identified (a bit like Antiques Roadshow for orchard enthusiasts) or buy them from a wide variety on offer. Cider making demonstrations are given at orchards in the area as well as the opportunity to make your own cider & perry; apple dishes are widely available including teas at Much Marcle Memorial Hall from 2pm.
Helpful Hints
The 2018 dates are Saturday 13th and Sunday 14th October (to be confirmed). Full programme and location details are available on the website link.
Admission fee to Hellens is £2 with an additional charge for house tours at intervals in the afternoon.
Click here for the event website : http://www.bigapple.org.uk/ and for Hellens : http://www.hellensmanor.com/
Photo by DeusXFlorida.
View larger map