| | |
| --- | --- |
| Where: | Thornborough, North Yorkshire at the Thornborough Henge (best approach from West Tanfield) |
| When: | Sunday of May Day Bank Holiday weekend |
| Time: | Opening ceremony at noon, Closing Ritual 7pm, Fire 8pm |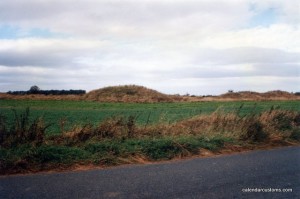 The coming of spring is an important landmark in the pagan calendar and the festival held each year at the prehistoric site of Thornborough Henge celebrates the turning of the season in a revival of ancient custom. The Henge consists of mysterious earthwork circles constructed around five thousand years ago, whose purpose remains unknown. Expect mummers, talks, workshops with  New Age or Pagan themes, dancing and music all day with the closing ritual at 7pm. Beltane is traditionally a fire festival and the focus of the evenings entertainment is percussion at communal bonfire from 8pm.
Helpful Hints
All are welcome and admission for day visitors is free of charge. For those who want to make a weekend of it, camping is available nearby but you need to arrange this in advance as space is limited (see website link). The best approach to the site is from the village of West Tanfield which avoids all traffic passing through the narrow road through Thornborough village.
In 2018 it will be on Sunday May 6th.
Click here for the event website : http://www.celebratebeltane.co.uk
and here for the Facebook page : https://www.facebook.com/celebratebeltane
View larger map