| | |
| --- | --- |
| Where: | Beccles, Suffolk at The Locks Inn (formerly at Lowestoft until 2016) |
| When: | 1st Saturday in August |
| Time: | 12 noon |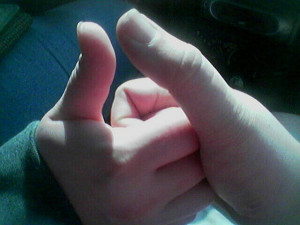 The noble art of Thumb Wrestling is a highlight in Suffolk's calendar and attracts entrants from far and wide. Each round is fought between a pair of combatants who clasp their hands together and then try to pin down their opponents digit long enough to recite " 1-2-3-4 I-Win-Thumb-O-War!".The victor of the round will then progess through further heats until the final. Thumb decoration is actively encouraged and many competitors choose to use appropriate names for the event. Thumb wrestling is believed to originate in the UK and as it requires no bulky specialist equipment it's ideal for a pub setting. It's a growing sport and after tv coverage it's expected to attract more attention – up to 2013 there would be around thirty active wrestlers taking part.
Helpful Hints
Entry costs £4.99 per person and proceeds go to charity. Participants must register before 2pm and tcickets may be bought in advance. The excellent event website (see link below) gives details of all the rules, history and more.
In 2018 it will be on Saturday August 4th at the Epic Studios in Norwich (location to be confirmed).
Click here for the event website: http://www.thumbwrestling.co.uk/
View larger map