| | |
| --- | --- |
| Where: | Tissington, Derbyshire at the Church and the wells around the village |
| When: | Ascension Day |
| Time: | 11 am at the Church |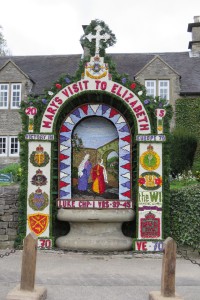 Well dressing is an ancient Christian custom with its origins lost in the mists of time; what is certain is that it is a thanksgiving for a supply of clean water and that it is most prevalent in the Peak District and surrounding area. The dressings themselves are beautifully crafted pictures made from flower petals and other natural materials pressed into clay on frames; they take many hours to make and in some places visitors can watch them being crafted. When the Dressings are fininshed they are set up at wells and springs to decorate them and in some cases there will be events through the short display season. There are too many well dressing customs to list all of them on this website (and there's already an excellent site dedicated to them) so I selected a few of the best known and longest established to illustrate what happens each year. Tissington's Dressings are erected on the Eve of Ascension Day and a special service takes place on Ascension Day morning itself at the parish church , followed by a procession around the village in which each of the wells are blessed in turn. The dressings stay in place for a week and are taken down on the Wednesday evening following Ascension Day.
Helpful Hints
Ascension Day varies in date each year because it's linked to the moveable feast of Easter; it's always the fifth Thursday after Easter.
In 2018 Ascension Day falls on Thursday 10th of May and the Dressings stay up until Wednesday 16th.
Click here for the village website: http://www.tissingtonhall.co.uk/plan-your-visit/tissington-well-dressing/
Click here to find more well dressing locations: http://welldressing.com/calendar.php
Thanks to Ross Parish of http://traditionalcustomsandceremonies.wordpress.com for suggesting I write about this event!
View larger map