| | |
| --- | --- |
| Where: | Dewsbury, Yorkshire at the Minster Church of All Saints |
| When: | 24th December |
| Time: | 10.30pm - midnight (ringing) & service 11.15-12.45 |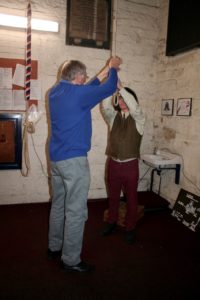 Many churches ring in Christmas Day with a peal of their bells, but at Dewsbury they do things differently. Starting at around 10.30 pm, the bell-ringers toll the tenor bell once for every year since Christ was born – it takes a while to get through this and is timed so that the last stroke is rung at exactly midnight. The ringers take it in turns to perform 100 strokes and a cunning electronic device keeps score just in case they lose count. A local legend explains that Black Tom de Soothill, the landowner hereabouts, presented the church bell as penance for murdering a servant but this doesn't explain why the bell is rung on Christmas Eve. Alternative theories suggest it's rung as a passing-bell because the Devil died when Jesus was born. Whatever the origin, this is a unique custom which must be tricky to perform correctly and which gets a little more difficult every year. A special service takes place in the church whilst the ringing is happening, then when the peals are complete the bellringers leave the ringing chamber and join the  congregation for the end of the service.
Helpful Hints
The service begins at 11.15 pm and ends at around 12.45. Well-known carols are sung, and there is communion. All can be assured of a warm welcome.
Click here for the church website : http://www.dewsburyminster.org.uk/
View larger map