| | |
| --- | --- |
| Where: | Tolpuddle, Dorset at the Museum in the village centre |
| When: | 3rd Sunday in July |
| Time: | 10am onwards with Wreath Laying at 1.15 and Procession at 2pm. |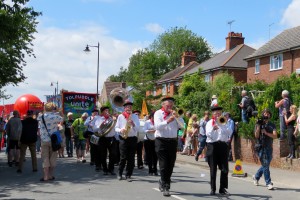 The Tolpuddle Martyrs were a group of six agricultural workers who formed a trade union in 1834 in response to deteriorating working terms and conditions ; they were sentenced to seven years transportation to Australia for this "crime" and the annual festival is held in their memory and to celebrate the fact that things have moved on a bit since then on the road to a "free and democratic society"…though perhaps not far enough. The festival is a week long and each year huge crowds come to take part with the high point being the Procession on the Sunday. Expect banners, wreath laying and a Methodist service in memory of the sacrifice of the early trade unionists as well as political speeches and music.
Helpful Hints
Admission is free to the wreath laying and parade and the the festival site/outdoor stage area but a charge is made for some other events (see website). It takes around half-an-hour for the Procession to pass a fixed point.There are plenty of food and other stalls on site. Parking is available for donations – just follow the main road until Stewards direct you up a lane to the carpark. The main road is closed from 1pm until 4 so try to arrive prior to that.
Visit the museum for a history of trade unionism and of the Tolpuddle Maryrs themselves (admission is free but only 30 people can fit in at a time so you might have to wait!). Look out for Thomas Dagnall's powerful sculpture beside the cottages, John Hammett's grave at St John's Church and the Martyrs Tree which became a symbol for workers' freedom. The local pub is the Martyrs Inn and you'll find a memorial arch by the Methodist Chapel.
In 2018 it will be on Sunday July 15th (to be confirmed).
Click here for the event website: http://www.tolpuddlemartyrs.org.uk/
View larger map