| | |
| --- | --- |
| Where: | Mousehole, Cornwall at the Harbour & Ship Inn |
| When: | 23rd December |
| Time: | Lights on at 5pm, Lantern parade 6.30, 7pm pie at the Ship Inn |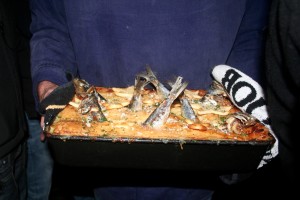 December 23rd isn't just the day before Christmas Eve in Mousehole….it's Tom Bawcock's Eve. Tom was a local fisherman who braved the midwinter weather to land a fine catch on this date, after a period of storms had prevented the men from sailing and the villagers faced famine. His act of heroism is commemorated annually and the story is re-enacted in the harbour ; the streets are illuminated with the famous harbour lights, there is a lantern parade and a special local delicacy called star-gazy pie is served. Unsurprisingly, this is a fish pie with a pastry crust; perhaps more surprisingly, the heads of the fish stick out through the crust to gaze at the diners. The Ship Inn is the place to eat the pie – you'll also hear a special song about Tom's brave act during the parade. Carol singing follows on the beach.
Helpful Hints
Mousehole is prounounced mow-zal (with an ow! not an oh sound) -apologies if I've got it a bit wrong…blame my Geordie twang!
The harbour lights are switched on at 5pm.
If you want to try the pie, it's given away in return for donations to the RNLI at the pub at 7pm – it's served in the dining area and just before serving a pie will be paraded through the bar area. There's no fuss beforehand so it would be easy to miss. It's the best fish pie I've ever tasted so don't let the bits sticking out put you off!
Parking is limited – if you want a space in the carpark, either arrive very early (by 4- ish) or wait until families with small children start leaving at 5.30-ish onwards. Otherwise there's roadside parking on the route from Newlyn.
Children (of all ages) will love the story of The Mousehole Cat by Antonia Barber.
Click here for the Ship Inn' s website : https://www.shipinnmousehole.co.uk
View larger map