| | |
| --- | --- |
| Where: | Totnes, Devon on the High Street & Fore Street |
| When: | A Thursday or Tuesday in mid to late August |
| Time: | 11am |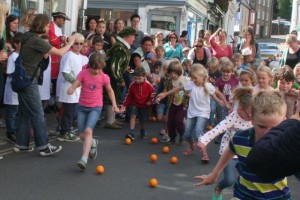 The Totnes Elizabethan Society organise the Orange Races in commemoration of Sir Francis Drake ; legend has it that the old sea-dog dropped his basket of oranges on Fore Street and the locals chased them down the slope. Competitors must kick or throw their fruit along the  450 metre course from the Market Square but can't pick it up and carry it; at least part of the orange must be intact by the finish and there may be disputes over whose is whose! Races are arranged by age group with trophies for winners and runners-up. The youngest children race on the flat and end at the market whereas the other competitors begin at that point and race all the way down the hill to the Seven Stars Hotel. Following the races there's a brief charity auction and then the prizes are handed out. All are welcome and there's a great atmosphere.
Helpful Hints
If you see the entry on Dartmouth Tourist Information's site about this event, they've used my text (not the other way round) and The Ewan's photograph without accreditation. I really don't object but didn't want readers to think I copy text from other sites!
It's steep! Entrants must register between 10 & 11 am on the day and the series of races follow until around 12.30.
The Elizabethan Market is held simultaneously with plenty of goods and entertainments on offer and Totnes has a very wide variety of attractive shops and eating places.
In 2017 it was held on Tuesday 22nd  August. 2018 date is yet to be announced (though in 2016, not that long beforehand,I was given the wrong date by the local Tourist Information office- you have been warned!!). This date should be reliable as it comes from the Elizabethan Society who organise the event.
Click here for the Elizabethan Society Facebook page: https://www.facebook.com/totneselizabethansociety/?hc_ref=SEARCH&fref=nf
Click here to find out more : http://www.visitsouthdevon.co.uk/site/festivals-and-events/orange-rolling-in-totnes-p456563
View larger map