| | |
| --- | --- |
| Where: | Uffington, Berks at the White Horse hill figure - meet at the carpark |
| When: | Formerly Spring Bank Holiday Sunday & Monday but now a weekend in July |
| Time: | 10am-4pm |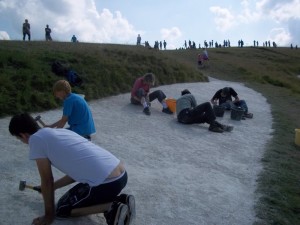 Uffington White Horse is an ancient and enigmatic chalk hill figure on the downland of Berkshire. Now in the guardianship of the National Trust, it has dominated the landscape for centuries. In earlier times it used to be "Scoured" every seven years amidst great festivities – hill figures need regular maintenance if they're to stay white and pristine into the future. While the old custom has disappeared over time, a new one has arisen in its place and on summer weekends volunteers make a contibution to posterity by helping to keep the horse clean and in good order. This involves beating new fresh chalk into the surface and I have it on good authority that this is hard work but worthwhile!
Helpful Hints
Volunteers for the Scouring should book in advance via the National Trust website but in practice all are welcome even if they turn up unannounced on the day. Scourers work in half-hour slots. The event formerly took place in May but has moved in 2016 in the hope of more clement weather conditions!
In 2017 it was on  Saturday July 1st- 2018 date is yet to be announced- see link for full details.
Click here for the National Trust website:  http://www.nationaltrust.org.uk/white-horse-hill/
and here for more on the history of the event: http://traditionalcustomsandceremonies.wordpress.com/?s=scouring
Thanks to Paula Gerrard for drawing my attention to this event and for providing the photos!
View larger map