| | |
| --- | --- |
| Where: | Urswick, Cumbria at Low Furness School (start) and the Church of St Mary & St Michael |
| When: | Last Sunday in September |
| Time: | 1pm |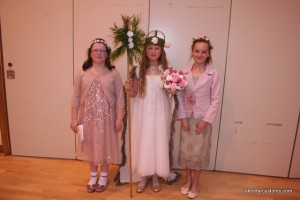 Urswick is the setting for an annual rushbearing service at the church, similar to better-known customs at Ambleside and Grasmere. Before churches had paved floors, rushes were strewn to keep the earth floors sweet and it was common to make a special occasion from their annual renewal. Few such customs survive but Urswick recently celebrated the centenary of the event in its current form. At Urswick, a procession with bands and banners leaves the local school at 1pm. Children led by the Rush Queen and her attendants carry rushes and flowers to the parish church for a special service which is followed by a tradition of gingerbread consumption back at the school.
Helpful Hints
It still goes ahead even if the weather is poor – we went in 2012 and while the procession was curtailed it went from the school to the church in spite of the rain!
In 2018 it will be on Sunday 30th September.
Click here for the church website :http://www.urswickchurch.co.uk
View larger map