| | |
| --- | --- |
| Where: | Wallingford, Oxon at the tower of St Mary-le-More behind the Town Hall |
| When: | Daily |
| Time: | Just before 9pm |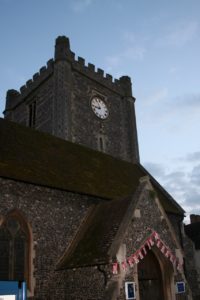 At Wallingford the Curfew Bell rings out just before 9pm every night – most curfews take place at 8pm but Wallingford received a special extension of an hour  from Norman times as a reward for cooperating in the post-Conquest castle building programme, thus earning the approval of the king. In the past it was common practice for a curfew bell to be rung in settlements all over the country, to let people know it was time to cover their fires and get to bed. Wallingford is one of the select few places where this still happens!
Helpful Hints
It happens just before 9pm – wait for the clock striking 9 and you'll miss it!
As the curfew is rung mechanically rather than by hand, very occasionally there are technical issues that stop it ringing, but these are rare.
View larger map