| | |
| --- | --- |
| Where: | Warcop, Cumbria from the Reading Rooms beside the Chamley Arms to St Columba's Church |
| When: | 29th June (unless this is a Sunday, in which case it is on Saturday 28th instead) |
| Time: | 2pm |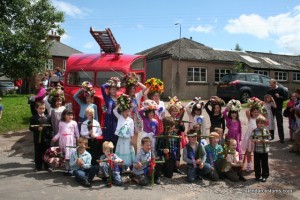 Rush-strewing festivals were once common in churches countrywide to replace the floor rushes with clean new ones for the summer – few survive and Warcop is one of the places which still has a Rushbearing. The children in the procession wear colourful floral crowns and carry rush crosses, accompanied to church by music and banners. The procession starts at 2pm and reaches the church by around 3.15 pm for a special rushbearing service. Refreshments are at Warcop Hall en route and childrens sports follow later in the afternoon.
Helpful Hints
The floral crowns and crosses are hung up to decorate the church until the next year. While the children have their refreshments at the Hall, the crowns are laid together on the grass and you can have a close look at the careful work that has gone into them. I was reliably told that many of the crowns under the flowers are handed down from one generation to the next.
It has never rained for the procession (even in 2012 which was the day after the dreadful deluge that swept the north of England), though the weather is sometimes less favourable for the sports.
View larger map