| | |
| --- | --- |
| Where: | London at Westminster School in Little Dean's Yard |
| When: | Shrove Tuesday |
| Time: | Morning |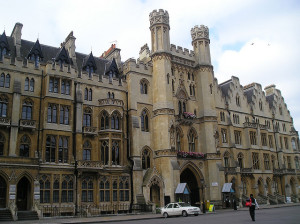 The ancient annual Pancake Greaze on Shrove Tuesday is included on the site because it's well-known and has an interesting history dating back to at least the eighteenth century. It's a competition between the pupils to see who can claim the largest portion of an enormous pancake tossed over  the Greaze Bar in the school hall (a metal bar about 15 feet up across the hall). The school chef tosses the pancake,  representatives from each House end up in a pile on the floor and the winner receives a sovereign in return for his portion. Following the Greaze, the Head always requests the Dean to grant a holiday for the rest of the day.
Helpful Hints
This is a school event and is not open to the general public, so don't turn up expecting to be let in!
In 2018 it will be on Tuesday 13th February.
Click here for the school's website : http://www.westminster.org.uk
Photo by klndonnelly.
View larger map