| | |
| --- | --- |
| Where: | West Linton, Peeblesshire from village centre, Station Road |
| When: | 1st Week of June with Rideout on Saturday |
| Time: | 10am Rideout |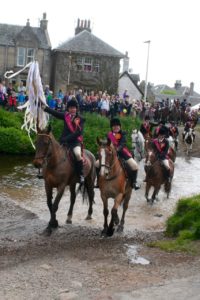 The Whipman and his Lass are a locally elected couple who lead the festivities each year in June, of which the high point is the Ride Out on the Saturday,a typical Borders Common Riding custom. Originally it took place in July on Thursdays but was moved some time ago as greater attendance was possible at the weekend. The Whipman Play is the name of the whole festival, which spreads over the adjoining days with numerous sporting and other events to include the whole community. The Cycle Rideout and Wheelbarrow Race are highlights! One of the best views for pedestrians of the cavalcade is at the Ford (just west of the main street where the horses splash through the river.
Helpful Hints
The festival begins on the Friday before the first Saturday in June, with the Rideout on the Saturday. In 2018 the Festival runs from 1st to 9th June and the Rideout will take place on Saturday 2nd June.
For the best view of the ford crossing, walk over the footbridge away from the village and you'll see the horses approaching from the village side. Printed programmes are available at the local shops.
Click here for the event website : http://www.whipman.com/
View larger map